One of the most important decisions you make, after you decide to pursue planting a church, is deciding who you will partner with for training and support. Choosing an organization for Chelsea and me to partner with was something we spent hours processing and praying about and we are so glad we landed on working with the Association of Related Churches or what we call ARC.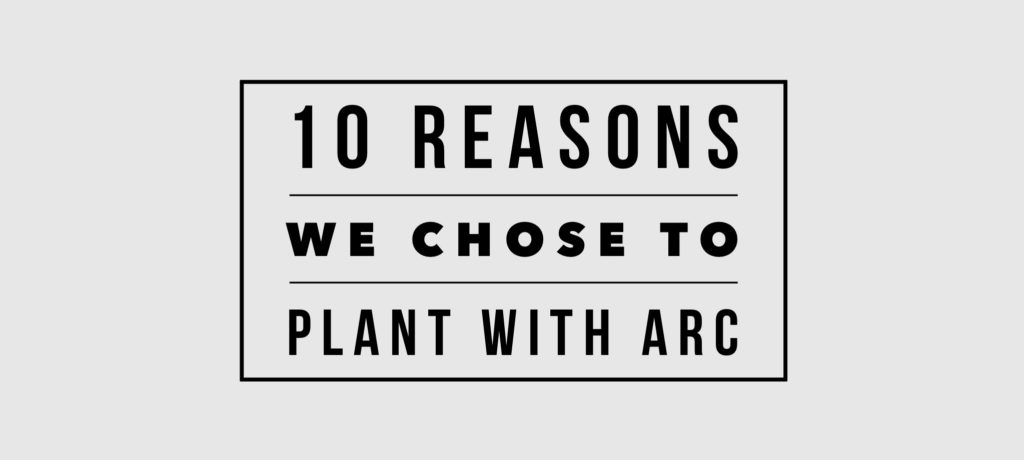 There are tons of great church planting organizations out there. We checked out Acts 29, NewThing Network, and the North American Mission Board and all had different strengths and weaknesses. ARC has its own strengths and weaknesses also but in the end, we chose to plant Greenville Community Church with their training and support.
As we searched for our planting partner we became more and more convicted of the importance of support in the planting process beyond financial support. The organization you choose when you plant has a direct impact on your church's DNA and the DNA of the future churches birthed as you multiply. When you choose a network to partner with you are choosing a family to walk with while you pursue this exciting but extremely difficult journey. Trying to plant in isolation is simply not a wise move.
Here are 10 reasons we linked arms with ARC…
Difficult & Intentional Application Process / The application and selection process with ARC is difficult and we were so thankful. They were deliberate and we were also on our end. Planting a life-giving church demands dedicated and consistent leadership and ARC has high standards that are made clear in the application process.
Leadership Culture / ARC is looking for planters who are leaders and have the ability to develop other leaders inside the church. The training process sets pastors up to focus on leadership development for the life of the church. Excellence and leadership development is a clear expectation.
Proven Strategy / ARC has planted over 700 churches around the world over the past 15 years. They have a game plan that is always being tested and worked on by church planters.
Collaborative Resources / ARC churches are sharing churches. There are tons of resources from thousands of churches available to planters.
Consistent Coaching / Every church planter has a coach assigned to them to walk them through the journey. This has been such a blessing to our team already! We are much better planters because our coaches have walked us through this journey.
Creative Funding Structure / ARC has a great financial support plan that gets real dollars aimed at real ministry. You can learn more about this on the ARC website but it's a funding strategy that is so helpful to launch sustainable churches.
Diverse Network of Churches / The ARC network is a diverse network of churches. Planters are not forced into a certain mold and creativity is encouraged.
 A Culture of Encouragement / There is a spirit of celebration that runs through the culture of ARC. Its real and it matters!
Dedication to Prayer / Everything at ARC is clearly dependent on God's power and churches are led to plant praying churches.
Call to Intentional Multiplication / ARC planters are called to plant a church that will plant other churches. Life-giving churches launch other churches. We believe intentional multiplication is critical to spreading the message of Jesus.
What we found in ARC was a diverse group of churches and leaders dedicated to church planting around the world. We felt like we found a family we could link arms with and as we moved through this process we have found that discovery to be so valuable. These 10 aspects of ARC matter because our long-term goal in Greenville is to plant a network of life-giving churches. We did not just need a plating partner for this season but for the future of our church.
Thinking about planting? Have questions about our experience with ARC? Email me and let's talk.