There was no way we could have known what a difficult year this would be when we first heard about COVID-19 a year ago when the first case popped up in Seattle. As I am writing this, that was a year ago this week, and like other flu-like viruses we have encountered, we thought it would go away. When the virus started to spread in March and schools and businesses started to close, we all thought this would be over in a few weeks. We were wrong. Regardless of how you feel about the virus or how it was handled, we have experienced and navigated death and loss on another level. I want to pause today and think intentionally about the death and loss we have endured in the pandemic and how pastors can respond?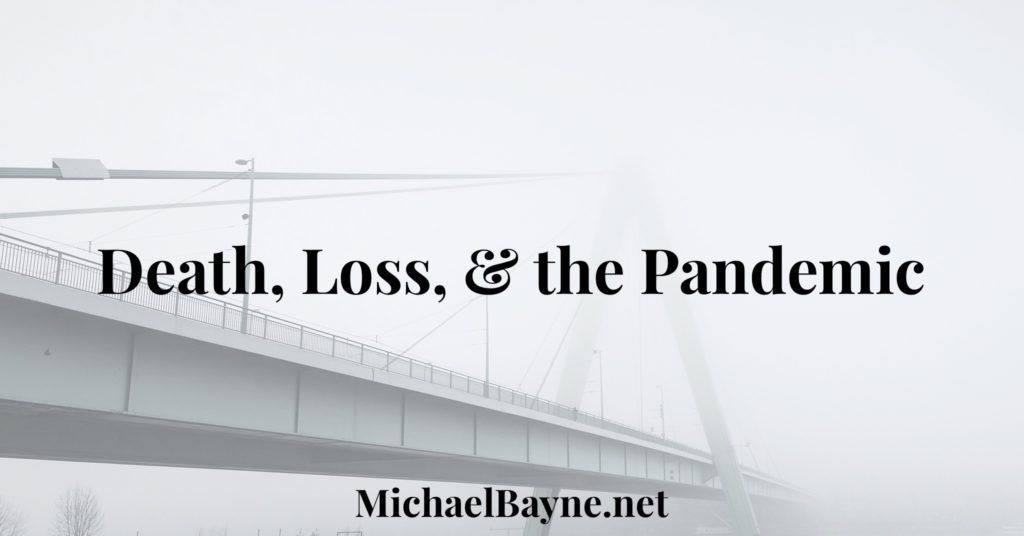 I'm not sure how you feel, but at this moment, I feel like I am surrounded by death on every side. We have crossed 400,000 deaths from the virus or complications from the virus, and that number keeps growing and has doubled since the 2020 holiday season. Many in the congregation I pastor have lost loved ones to the virus or problems the virus helped expose and complicate. Then we deal with the suicide rates we hear of all over the country as fear and isolation push people over the edge. We also are walking through the normal loss of those we love that die of normal causes since death is something that we can't escape.
We also experience death in a different form as we all have faced the deep loss of parts of life that are normal and important. We grieve while we can't hold funerals and memorials as we normally do. Students have lost an entire year of in-class instruction, ball games, dances, sporting events, and graduation ceremonies. Employers have had to navigate shortfalls and furlough of workers. Weddings have been shrunk or delayed. We attend church at a distance and with limited capacity or online. We can't hug a friend, shake a hand, or hang out with a group of friends over dinner. Many of us lost an entire holiday season with our families. All of this is loss. All of this hurts.
This week, as several of my close friends, navigate the loss of family members, I have been processing the church's response, pastors, and followers of Jesus. How do we respond in a season of staggering death and loss? I believe we have to first consider that as we grieve, we don't grieve as those who have no hope. Remember this from the Apostle Paul…

1 Thessalonians 4:13–14 (ESV)
13 But we do not want you to be uninformed, brothers, about those who are asleep, that you may not grieve as others do who have no hope. 14 For since we believe that Jesus died and rose again, even so, through Jesus, God will bring with him those who have fallen asleep.

Our first response to the death and loss we face in any form is to reconsider the place of hope we grieve from. We grieve, and we hurt, but we have such deep hope. As followers of Jesus, we are called to have a different perspective on death and loss. This may be the first time many of you have had to stare death and loss in the face. It's brutally hard, and at the same time, it's in that place where we discover the comfort and hope that can only come from the Holy Spirit.
There are several other ideas I keep returning to for the church, pastors, and followers of Jesus. Let me just list them off quickly…
The Gospel and our willingness to share the hope of Jesus matter so much in this season.
We must sit with people in their grief and not explain it away. Loss hurts, and people are going to need time to heal.
People are watching us to see how we respond to the pandemic the painful loss we have endured. We are a witness as we navigate death and loss.
Grace and patience with others matter more than our opinions about the pandemic in this season.
Church has to move from perform/attract to relationship/experience quickly if we are going to really help people recover in the coming years.
Check-in on people. Really listen to how people are processing this time.
Process your own grief as a pastor. Pastors need time to regroup as they walk with people that are hurting.
Lead your church toward recovery as you elevate people's need to know each other as a spiritual family. You, as the pastor, can't be the relational or care hub for your church. Church has to be family, or it's never going to be all God intends it to be.
How are you dealing with this season? I am praying for your as you process 2020-2021.