When we planted Greenville Community Church, we launched out of rented space in a movie theatre. We were so thankful for the space when we launched, but our hearts longed for something more permanent in a neighborhood closer to downtown. Over our first year as a church, God led us to a merger with an existing church and the journey of maximizing an older facility on a young church budget. We are in a season of church planting and revitalization where I am sure many of you are on the same journey. Let me share some of what we have learned.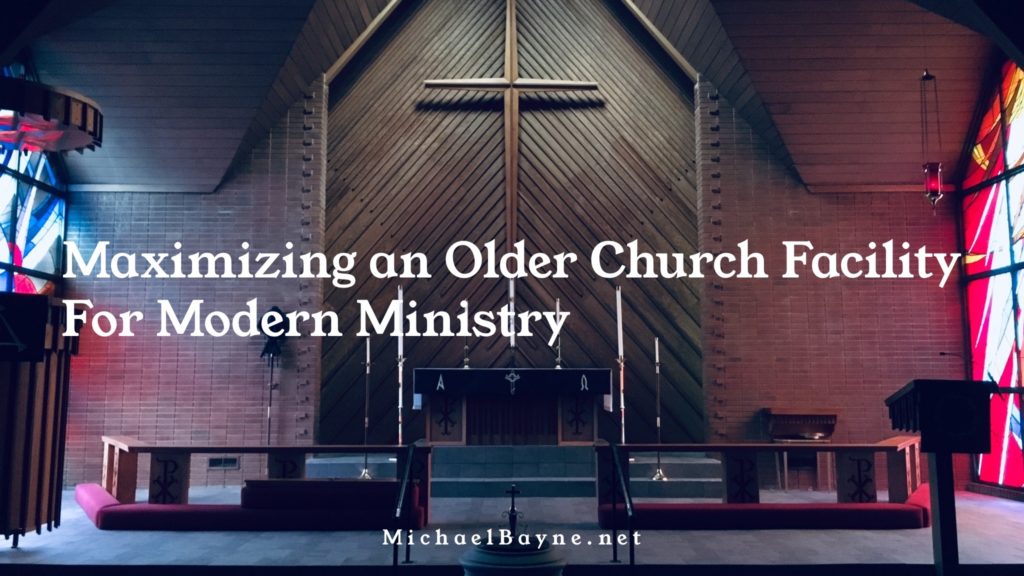 We will save the process of merging with another church or assuming a facility from an existing church for a later post, or if you have questions, you can email from the connect page here on the blog. Let's start with the overwhelmed feelings of seeing everything that needs to be done with your older facility. When you are gifted a space, it comes with years of neglect as the church worked to survive. Take a deep breath, and let's talk about the most important steps to take.
Manage Expectations // You have to manage the expectations in your heart and the heart of the congregation. Some of the work will be very visible, and some will be unseen as you work through renovating and improving your space. Manage the expectations and make sure people know the real work ahead and the process ahead.
Prioritize // Some things have to be done immediately when assuming an older church and some things that can wait. You have to choose and invest resources first to make the building operational, clean, safe, and provide a good first impression. Choose carefully and have wise people around you to help you think through every possibility.
Make a Statement // Whatever you do first in an older facility, make sure you make a statement to the neighborhood you are serving. We chose to focus most of our first work on a new look for the outside of our building and sharp signage. We wanted people to know something different was happening in our older space while also protecting the older space's charm. Leverage your first renovation push to make a statement!
Involve Volunteers // Choose some very specific workdays where your volunteers can help clean, repair, and invest some sweat equity. Your volunteers can't do it all, but they can do some of the work and grow together by serving.
Find Professional Partners // You will need professionals that will help you make this dream a reality. We focused on finding roofers, HVAC, painters, plumbers, and electricians that we could trust. It would help if you had partners that will give you the best deal for a non-profit and do a good job. Start building those relationships now and be loyal.
Cast Vision & Pray // It's essential to cast the vision of what is coming up with your congregation and to invite them to pray with you for God to provide what is next. There is nothing more satisfying than praying and watching God open doors. You have to keep sharing the vision, so people keep praying for the vision.
Celebrate Each Small Step // I don't care what you check off the list in renovating your older space…celebrate! Every step matters. Thank people and celebrate!
Maintenance Matters // Cleaning and lawn maintenance are two areas that help your older space stay fresh and inviting. Find some partners to help you keep this rolling with excellence.
Tell the Story and Paint the Picture for What's Next // Leverage every moment you have with people to retell your facility's story, how you are using it for God's Kingdom, and to share what is next. The reality is having your space is there is always a next step people need to be sharing about. Never settle. Keep working on it.
Be a Generous Church and Renovate your Space // Never allow facility work to keep you from giving sacrificially to ministry work in your city and around the world. Your missions giving should not be hurt by facility improvements. Give generously as a church and trust God to bring the resources you need for the building.