2020 and 2021 have pushed us to the limits. Recovery is happening, but it's slow. I was at a conference for ministry leaders this month called the D6 Conference. Here is one thing I realized very quickly as I talked to ministry leaders that they are recovering, but it's happening very slowly. Ministry leaders have been fighting to navigate a pandemic, a nightmare of an election cycle, racial tension, and constant divisive debate from their own congregations. They are now expected to move at light speed to adjust to a new normal. If you lead a church or a ministry area in a church, I want to encourage you to slow down because recovery takes longer than we want. It's time to move forward but make sure it's at a pace that promotes recovery for your entire organization.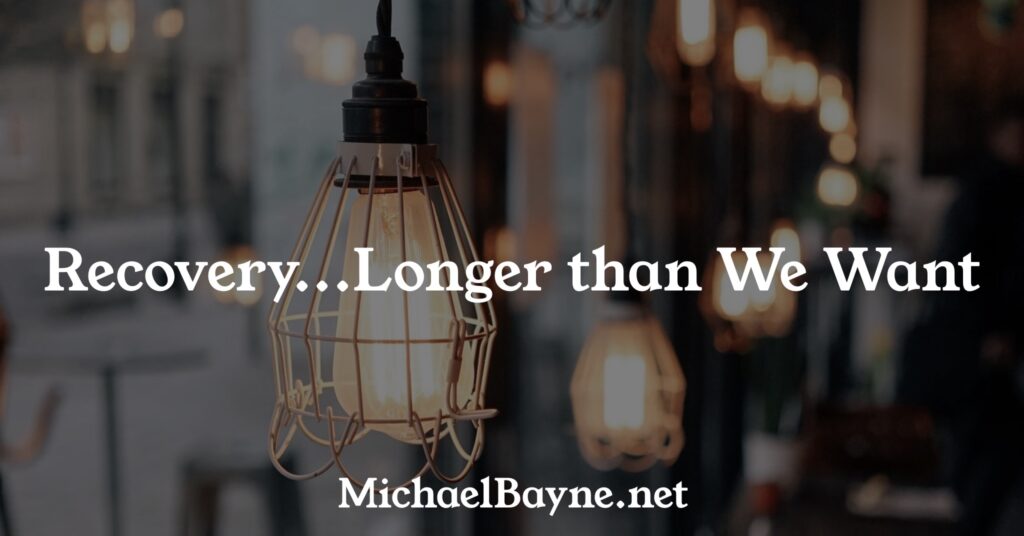 I feel the tension. We are ready to get back in motion as we serve our communities. The problem arrives when we don't ramp up at a pace that allows our teams to heal as we accelerate. When we try to move right back to an old pace of ministry after all the trauma we have endured, we will injure our own souls, trying to chase imaginary outside expectations. Recovery time has to be built and expected for our staff and volunteers as we enter the 2nd half of 2021. Here are a few reasons why…
We have to adjust to being back together regularly. It's hard to go from being isolated at home to gathering in spaces with people. Be patient because even if it's not an issue for you, it's a big one for others.
Everyone has an opinion about how we should regather. I say this because some folks are not going to like your plan, and they will push back.
Volunteer teams have to be rebuilt and retrained. Volunteer teams are fragile right now. You are going to have to add new leaders and also train your old leaders again. Don't be hard on yourself; we are all dealing with this.
Mass migrations are in motion. You are going to see lots of folks move away from your city and to your city. Moves were put on hold in 2020, and this year we will see lots of change with people switching jobs and starting over. This applies to ministry staff also.
We have to find new rhythms for this new season. Not everything we were doing pre-covid needs to come back. We have the chance to embrace new rhythms that could help us do more ministry at a more healthy pace. New rhythms take time to evaluate.
The results of the pandemic will be different than the pandemic. We are just now seeing the impact of the past year. What we face next is also unknown, and that uncertainty is hard for us to deal with internally. The more we fight to recover, the more we will be ready for the next challenge.