When we launched Greenville Community Church in 2017, we decided immediately that our online experience would be limited to our weekly podcast. March 16, 2020, we found out that because of COVID-19, we would not be able to gather in-person, and we quickly shifted to an online experience. Now that we have had an online option, I don't think we will ever go back to not offering this kind of digital experience. Yes, as a church under 200, we are now committed to creating a weekly digital gathering for people to use when they are not with us in-person.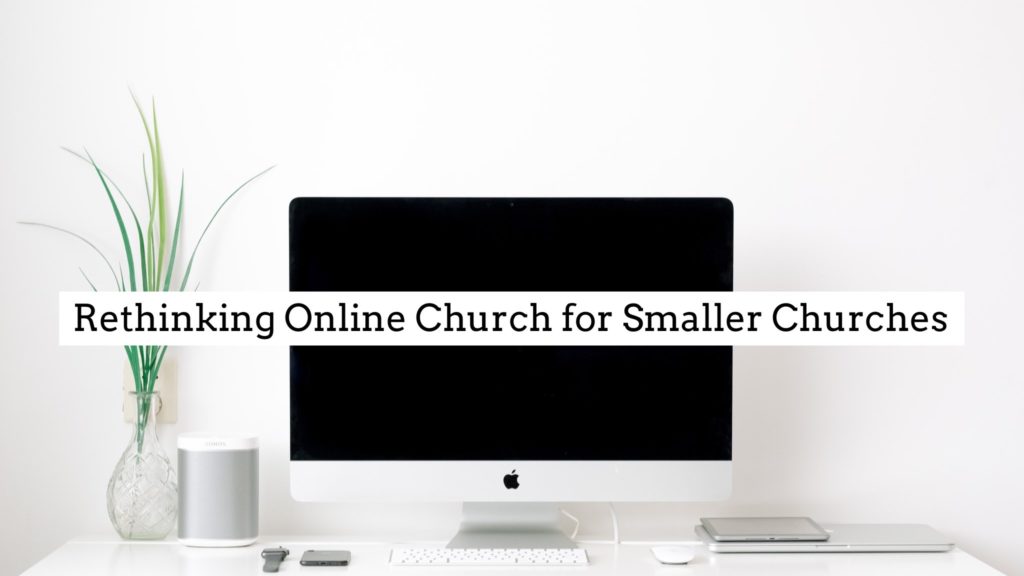 We had a theory that we worked from as we launched our online service when COVID-19 changed the way we could gather. The idea was that we should ignore the temptation to recreate an in-person gathering online and focus on creating a tremendous at-home experience digitally. We believed then and still believe months later that in-person gatherings and digital gatherings should be unique and focused on the help people we are engaging. Most versions of online church involve trying to bring people into an in-person experience when they are not in the room. This is just my opinion, but I have thought for years this was a mistake, and yes, I served at a church with an online campus since I have had the joy of serving at large and small churches. We miss an opportunity to intentionally invest in people when we do nothing different with our online experience but broadcast it. Churches under 200 suffer, then they think putting energy into broadcasting an in-person experience because it usually is just full of bad video and sound quality in an effort to be "live" in the room.
I believe churches of all sizes, but especially churches under 200, should rethink online church and start creating weekly online experiences aimed at people in their homes. Why, because engaging digitally is not the same as being in-person. The environment shapes the way we create worship experiences. People engage God differently when they are away from our physical environments. Many churches create excellent online church experiences, but the amount of staff, volunteers, and finances are just beyond the reach of most churches. Your favorite online experience is your favorite because of the budget and creative people! We need to stop modeling our online experiences after these churches and look at how people are engaging on other platforms like Youtube, Facebook, and Vimeo. Can we all be honest and admit that most of the online church experiences we are throwing out there are not quality experiences?
This post, let's focus on why we need to rethink online church and start creating high quality online at-home experiences. Here are a few reasons to shift the format if you are a church under 200…
An at-home experience allows us to talk to people directly at home or on their mobile devices. // We see pastors and staff try to balance talking to both crowds in their live streams, but it's just odd. Talk to the people watching or speak to your crowd in the room. An online experience for the home allows us to talk to our people not gathered with us in a very personal way.
An at-home experience allows us to create resources that help people go deeper or join other people and watch in a group. // We have the chance each week to create group questions that people at home can use if they host people at their home for the at-home experience. Because we are creating resources for the at-home experience, we are giving them a chance to go further spiritually each week.
An at-home online experience gives us a better shot at good lights, great sound, and HD video quality. // All of these factors matter. Lighting, sound, and video quality need to be high, and next week we will share what we have invested in to pull this off on a small budget.
An at-home online experience allows us to invite people into our different in-person gatherings. // Every week, we remind people that we hope to see them in person, and we invite them into the in-person experience. Attending is now a step toward community. When they come, they already know us more intimately!
Online visitors get a better experience from your church. // People are looking to watch you online before they attend in person. Your first impression is being made online. Process that…it's scary but true!
At-home singing is challenging, so why put so much time into that element? // I have yet to meet people who love singing with the band from the couch. If you love this, let me know. I know some people like it, and I get it, but most people are just waiting for the communicator to start. Worship can be a part of an at-home experience, but it looks different.
Next post, we will follow up with how to create an at-home experience that engages your church and community no matter the size of your church. If you want to see how we have changed in our approach to our online experience, go here and look at how we format our House Church experience at Greenville Community Church, a church under 200.