When we sheltered in place here in South Carolina, I could never imagine that now, in November 2020, we would still be dealing with the impact of COVID-19. It's been a challenge for everyone dealing with the pandemic. We all know someone that has battled the virus, and many of us know someone that has lost a friend or family member. The impact of the pandemic has been devastating for everyone. We have all paid a price. In the coming months, we will face more challenges, but before we get too far, let's look back and process some of the things this challenge has forced church leaders to address.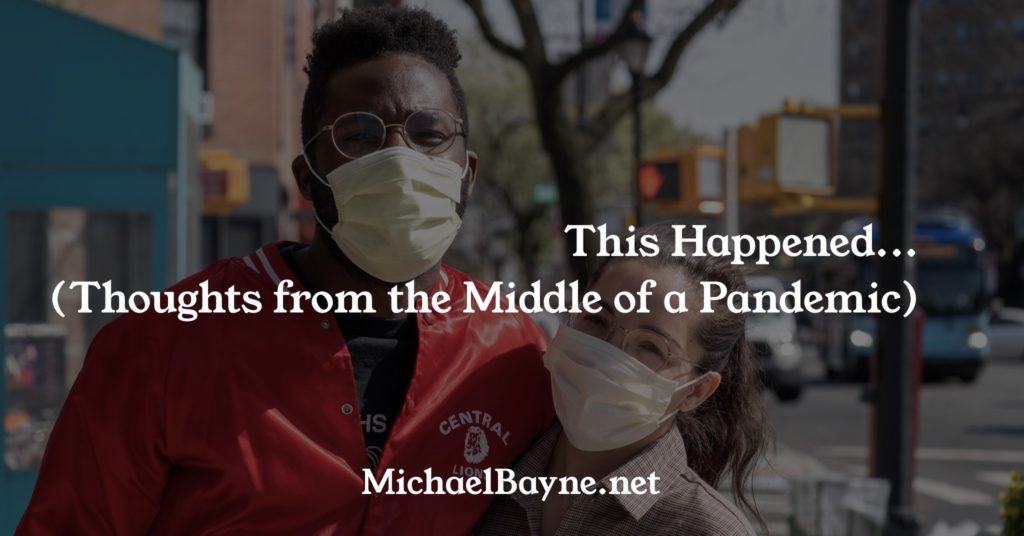 I was sitting with a pastor this past week, and we began to share how our churches were adapting to ministry in the middle of the pandemic. We quickly realized that there were some struggles but also some clear opportunities because of the pandemic. Crisis always reveals opportunities and obstacles. I want to share just a few thoughts about some of these things that have happened in the midst of this pandemic…
Online gatherings are now normalized. // Church went online quickly! You may not know it, but there had been tons of push back against online church the past ten years even as the tool was used. I even had my reservations, but the pandemic allowed our team to create an experience we are proud of. I think the pandemic will forever push all churches to have quality online gatherings to engage folks who can't be in-person and explore the church.
Zoom / online community groups work. // We have seen several of our online groups really thrive. People who could not connect with in-person groups have been able to jump online. The discussion has been excellent when the group is led properly. Online groups will not replace in-person, but it gives us a new avenue for building community.
Flexibility is the new normal. // We have seen churches be able to make changes that leadership has wanted to make for years because of this crisis. Churches are not known for flexibility, but the churches that thrive will be flexible in the future. Churches are regrouping and getting ready for new days ahead, which is a win for so many spiritual families.
House Church could fuel a new wave of discipleship. // The ability to gather, leverage online teaching, and connect with others in a house or home church setting is now a really normalized possibility. Many churches have been using this method, but it may be a new opportunity for many churches in the coming years.
Avoiding debt leads to opportunity. // Churches free of debt have a real advantage to not rush back to past methods. Less debt and smart facilities give churches real future opportunities. I am watching churches rethink how they use their space and rethink future needs.
We have some new metrics. // The future is not going to be wrapped in the numbers we used to cling to in baptisms, attendance, and giving. Those all matter, but we now have to strive for engagement. How are people engaging with our churches? How are people growing spiritually? What tools are they using? Who are they connecting with? How are they serving? Are people telling their friends about Jesus?
Health matters as much as growth. // We are now watching churches that put all their hope in future growth struggle. This pandemic is revealing the health of our churches. Church leaders that strive for health at all levels today will see growth come when it's time in the future. We have a moment to shift our churches to heath if we embrace it.
Pandemics can't stop the church from making disciples. // Many things changed in the way we do church but investing in people can not be stopped. Making disciples can't be stopped. Prayer can't be stopped. Serving others never goes out of style. I am proud of the American church for getting back to basics.