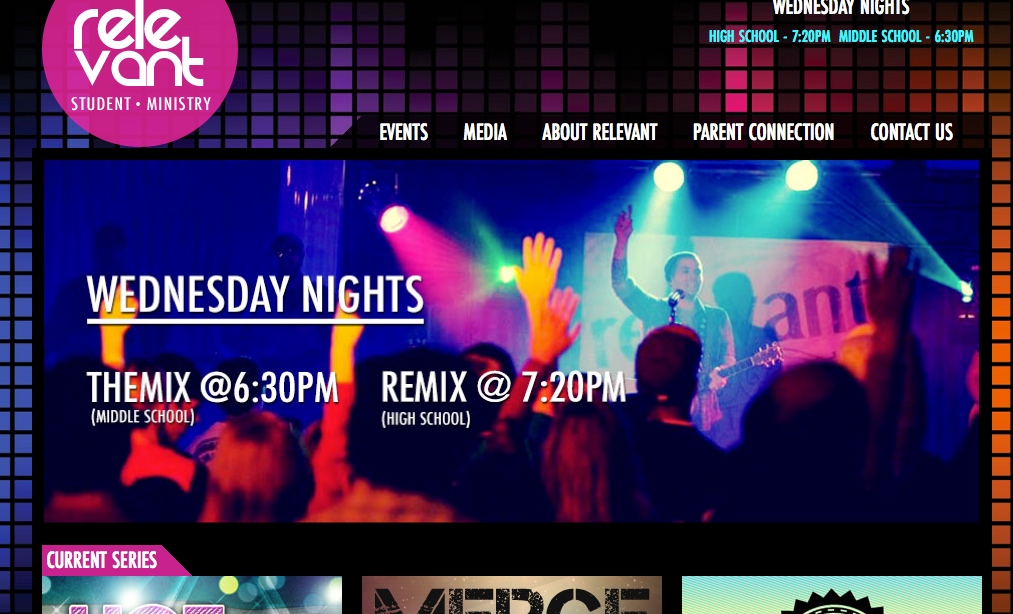 This month we redesigned and relaunched our ministry website for Relevantstudents.com and we could not be more thrilled with how it turned out. In 2007 when we launched Relevant through Grace Community Church we knew we wanted to focus all our communication energy online through a website and social media. Both platforms work to support each other and yes managing a ministry website takes time and effort. Most ministry leaders I know who talk about not needing one say that because they are not willing to take the time to do some basic graphic design and web editing. With the right partners you can create and maintain a website that will enhance your web presence and help first time visitors know what to expect when they come and check things out. Here are five reasons we created and have maintained a ministry website the past 6 years…
First Impression Factor // When someone needs to find information about what we do as a student ministry we want to make a good first impression. We hope that through the website we are able to help teens and parents looking at our ministry to understand a little about our ministry culture and goals.
Event Registration // In 6 years we have never used a mailed out paper registration! Online registration allows us to gather information quickly, keep it organized, and help parents make online payments.
Current Information // We can update into on our site quickly so we can keep up current information. Many times we will post little bits of info on social media and have people head to the site for more details. We also post our messages and parent updates every week on the site to help people stay connected.
Community Connection // A ministry website allows teens from the community to learn about you and understand they are welcome no matter what church they attend on Sunday if they go anywhere at all. We are a ministry focused on the community so we want a place for the community to come to for information.
Ministry Legitimacy // Any ministry that is making a community wide impact should have a website to have an official presence in the online world. When you have a sharp clean site it communicates legitimacy. It really does matter in today's world where everyone is connected.
If you have a ministry website I would love to hear how you have used it and how you think it helps the ministry you lead? If you don't have one I would love to know why you don't?